Das älteste Klavier der Welt
Wednesday, May 28, 2014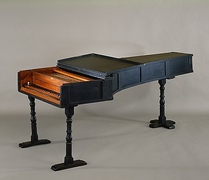 Aus dem Metropolitan Museum of Art in New York:
"Dongsok Shin performs the Sonata in d minor, K.9 by Domenico Scarlatti (1685-1757) on the earliest known surviving piano, made by the instrument's inventor, Bartolomeo Cristofori (1655-1731), in Florence, 1720. Scarlatti's keyboard compositions were performed on both the harpsichord and the early piano." + 
+ 
+ 
RISM weistmehr als 900 Quellen zu Domenico Scarlatti in der RISM Datenbank nach. Die gespielte Sonate ist 14 Mal im Online-Katalog verzeichnet. Eine Suche über die Werkverzeichnisnummer (KirS 9) und den Komponisten oder über das Musikincipit und den Komponistennamen führt Sie zum Ziel.
Bildnachweis: Metropolitan Museum of Art
Share
Tweet
Email
---