Listen to the world's oldest piano
Wednesday, May 28, 2014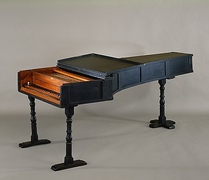 From the Metropolitan Museum of Art in New York:
"Dongsok Shin performs the Sonata in d minor, K.9 by Domenico Scarlatti (1685-1757) on the earliest known surviving piano, made by the instrument's inventor, Bartolomeo Cristofori (1655-1731), in Florence, 1720. Scarlatti's keyboard compositions were performed on both the harpsichord and the early piano."
 
 
 
RISM has just over 900 sources by Domenico Scarlatti in the RISM database. This sonata is represented in the database 14 times. To find it, search by the catalog of works number (KirS 9) and the composer, or by incipit and composer.
Image: Metropolitan Museum of Art
Share
Tweet
Email
Category: Rediscovered
---