Looking Back on 2020
Monday, February 15, 2021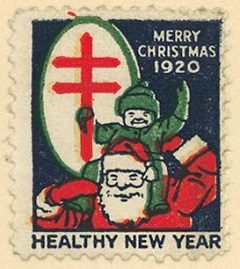 This time, looking back on the past year is not as refreshing as it has been previously. It goes without saying that 2020 did not proceed as we thought it would, and our grand plans to highlight 19th-century music throughout the year - inspired by the Beethoven anniversary - unraveled along with basically anything else related to schedules or calendars.
Despite this, RISM work continued and in fact some great work was done despite the circumstances. Here are the most popular stories from the world of musical sources that we published here on the RISM blog in 2020:
Social media highlights:
We wish you a happy and especially healthy 2021, echoing the same sentiments as 100 years ago.
Image: Stamp, 1920, from Malmö Museer via Europeana. CC BY.
Share
Tweet
Email
---