RISM and Beethoven and the 19th Century
Thursday, March 12, 2020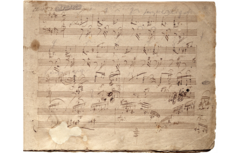 Ludwig van Beethoven is certainly the most prominent of the 2020 musician anniversaries. But his birth year of 1770 was unlucky for him in the early days of RISM. As many in the RISM community know, many RISM projects traditionally stopped at the year 1800, excluding much of Beethoven's oeuvre. Beethoven was specifically singled out in the introduction to A/I (published in 1971), the series of printed music by a single composer, as an exemplary composer to omit: "Composers whose works were predominantly first printed in the nineteenth century were not included, not even if (as in the case of Beethoven) part of their work had already been printed in the eighteenth century." Sorry, Ludwig!
But 50 years after that sentence was written, a lot has changed in musicology and source research. Many RISM contributors now enter sources well past the original 1800 cutoff, so you will find a good bit of 19th-century music in RISM.
We'd like to point out some musical sources after 1800 that are new to RISM:
We will report throughout the year about more 19th-century sources.
Image: Ludwig van Beethoven, autograph manuscript to the Sonata op. 109 in E, 1820. Library of Congress (US-Wc) ML30.8b.B4 op. 109 1820 Case. RISM ID no. 1001102715. Available online.
Share
Tweet
Email
---