400 Years of the Florilegium Portense
Thursday, February 18, 2021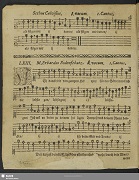 Strictly speaking, the number in the title above only refers to the second part of the collection of motets published by Erhard Bodenschatz (ca. 1576-1636). The first part appeared in 1618 and contains 115 motets for four to eight voices. A further 150 motets by over 50 composers, from Agostino Agazzari (ca. 1580-1642) to Gregorio Zucchini (after 1540-after 1616), can be found in the second part. This repertoire is strong in Italian composers, but there are also works by Christian Erbach (ca. 1570-1635), Melchior Franck (ca. 1579-1639), and Martin Roth (ca. 1580-1610)–who alone has 15 motets.
The editor, Erhard Bodenschatz, was a cantor in Pforta, which today is part of Naumburg an der Saale in Sachsen-Anhalt (Germany). Much of the collection was compiled by his predecessor, Sethus Calvisius (1556-1615). The edition, which was dedicated to the Leipzig mayors Friedrich Meyer and Theodor Möstel, was an integral part of music education for a long time, such as at the St. Thomas School in Leipzig. Even Johann Sebastian Bach used it during his time as Thomaskantor there.
Image: Erhard Bodenschatz: "Ich danke dir von ganzem Herzen" from Florilegium Portense. Copy from SLUB Dresden.
Share
Tweet
Email
Category: Musical anniversaries
---