Looking Back on 2021
Thursday, January 13, 2022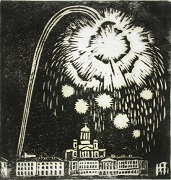 As with presenting the year's musician anniversaries, it has become custom for us to take a look back on the past year and share what was most popular with our website readers. These are the year's blog posts that were read the most often, according to our website statistics:
 
 
 
 
 
Other stories were still widely read despite being somewhat older, including Joseph Bologne's "L'Amant Anonyme", Listen to the world's oldest piano, Scott Joplin's "The Cascades" and the St. Louis World's Fair, Electronic Thematic Catalogs, and Music Incipit Search(es).
Some of our social media highlights were:
We hope that your 2022 is full of health, happiness, and music. If you have news of your own that would be of interest to the RISM community, please do share it with us.
Image: Henry Ericsson (1898–1933), Fireworks over the Senate Square (Ilotulitus Senaatintorilla). Finnish National Gallery, via Europeana (public domain).
Share
Tweet
Email
Category: New at RISM
---