The Music for Richard Wagner's "Rienzi" Preserved in Dresden
Thursday, July 23, 2020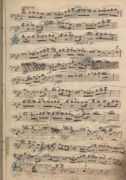 This weekend was supposed to see the opening of the Wagner Festival in Bayreuth. Instead, a full, alternative program is planned.
We'll take this opportunity to take a look at the music preserved for Richard Wagner's Rienzi, which was used in Dresden over a long period of time. The music material is held in two groups in the music archive of the Saxon State Opera (D-Ds): instrumental/vocal parts and the stage music.
Among the material for the stage music you can find instructions for the bells, from a performance in 1923.
The parts contain numerous performance markings, including from the premiere on 20 October 1842, such as the 2nd oboe's part for the end of the first act. We know that the material was used up through the late 20th century thanks to a note in the 2nd trumpet part at the end of the overture: "Schallplatte am 20.12.1984" (Recording on 20 December 1984).
Of course, parts that were used over the course of such a long period of time reveal much about the performance practice of the 19th and 20th centuries in the form of numerous handwritten entries, cuts, pasteovers, performance notes, and even a taped-in newspaper article. The detailed descriptions in the RISM catalog adds information about the singers and conductors when they are mentioned in the music.
Image : Richard Wagner: Rienzi. Excerpt from the finale of Act I (bassoon 1) with cuts and pasteovers (Dresden, Sächsische Staatsoper, Notenarchiv; D-Ds).
Share
Tweet
Email
Category: In the news
---