"In Frankfurt a/m zu haben bey Musikus Ludwig": Identifying the Copyist Johann Wilhelm Ludwig
Kristina Krämer
Monday, March 9, 2020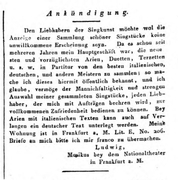 By fortunate coincidence, a short while ago we were able to identify the previously unknown "Musikus Ludwig," who produced custom-made manuscript copies of Italian and German vocal music at the beginning of the 19th century in Frankfurt am Main. Starting with an advertisement in the Allgemeine musikalische Zeitung (AmZ), we used church registers in Frankfurt and various theater almanacs to identify the person as Johann Wilhelm Ludwig (1765–1838), a contrabass player in the Frankfurt Theater Orchestra.
Ludwig placed an announcement in the AmZ in January 1805 advertising his services as a copyist (see image). Since Ludwig consistently annotated his copies with sentences such as "Se trouve a Francfort s/m chez le Musicien Ludwig," we could clearly identify Ludwig as the copyist in over 50 records in RISM.
One example of his manuscripts is RISM ID no. 450012930 (available online).
For the biography of Johann Wilhelm Ludwig, see the article in Musik und Musiker am Mittelrhein 2.
Image: Intelligenzblatt no. 5, AmZ 16 January 1805.
Share
Tweet
Email
---