Wagner exhibit in Bamberg
Friday, May 30, 2014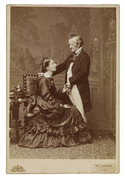 The latest edition of the Bibliotheksforum Bayern has a wonderfully illustrated article about last year's exhibition about Richard Wagner at the Staatsbibliothek Bamberg (D-BAs). The library marked the occasion of both the 200th anniversary of Wagner's birth and the 130th anniversary of his death with displays of rare music materials, historical performance materials, contemporary printed music, pictures, autobiographical sketches, and autograph letters.
Werner Taegert, "Richard Wagner zum 200. Geburtstag. Dichtungen, Kompositionen, Schriften. Rückschau auf eine Ausstellung der Staatsbibliothek Bamberg." Bibliotheksforum Bayern 2 (2014): 138-141.
RISM has 336 sources for Wagner in the online database.
Picture: Richard and Cosima Wagner in a photograph by Fritz Luckhardt. Vienna 1872 (Msc.Add.1007).
Share
Tweet
Email
Category: Library collections
---