Exhibit in the Bavarian State Library on Historic Tablatures
Monday, January 15, 2018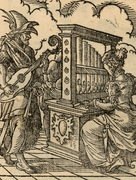 The Bavarian State Library (BSB) in Munich is presenting an exhibit on tablature manuscripts entitled "Etlich Liedlein zu singen oder uff der Orgeln und Lauten zu schlagen." The manuscript tablatures and partbooks from the 16th and 17th centuries will be on view until 28 March 2018.
The tablatures present a special form of notation for instrumental music and are today preserved at the BSB thanks to the collecting passions of several Bavarian dukes.
Through a project at the BSB financed by the German Research Foundation, the musical sources are all being digitized and cataloged in RISM. The records will be searchable in the RISM online catalog beginning in April 2018.
Enjoy this behind-the-scenes video of the digitization project (and some nice views of RISM cataloging beginning at 1:30!):
Image from the exhibition website.
Share
Tweet
Email
Category: Events
---