Articles about Spanish printed music in the 16th century
Carmen Álvarez
Tuesday, February 4, 2020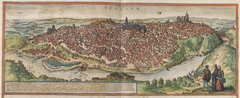 Spanish below (thanks to Carmen Álvarez Escandell)
Recently, we at RISM have read three interesting articles about Spanish printed music in the 16th century:  
 
Noone describes when and how the printed polyphonic music books arrived in Toledo's Cathedral, giving us some information about the books purchased and the source of adquisition of these books. Unfortunately, most of the books acquired between 1532 and 1669 have been lost, but the 7 that have survived are in RISM.
Thanks to the information in this article, we know that after the Jesuits' expulsion in 1767, the printed music from the 16th century that was owned by the Jesuit College went to the library of the University of Salamanca. Because of that, we have our first records for this ancient institution (E-SAu), to which we hope we can add more sources soon.
This article includes a catalog of all of the music printed between 1539 and 1628 preserved in Valladolid's cathedral (E-V). Aguirre Rincón gives the new shelfmarks for the books, including some that were not cataloged before, and also lists books that were previously cataloged as one. Also, the author indicates which books were the provenance of Jerónimo Luis de León, a chappelmaster who donated his musical books to the Cathedral after his death.
All this new information is already available in our database, widening our knowledge of Hispanic sources.
Image: Toledo 1572, in: Georg Braun; Frans Hogenberg: Civitates Orbis Terrarum, Beschreibung vnd Contrafactur der vornembster Stät der Welt, Band 1, Köln 1582; [VD16-B7188] Universitätsbibliothek Heidelberg
*****
Esta semana hemos leído en RISM cuatro interesantes artículos sobre música impresa española del siglo XVI:
Toda esta nueva información está ya disponible en nuestra base de datos, ampliando así nuestro conocimiento sobre fuentes hispánicas.
Share
Tweet
Email
Category: New publications
---