RISM Central Office Temporarily Closed
Wednesday, March 18, 2020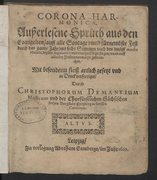 As a precautionary measure due to the novel coronavirus (COVID-19), the RISM Central Office in Frankfurt has been closed since 19 March 2020. We are currently working in a limited capacity, so we thank you in advance for your understanding.
We continue to be reachable through the usual ways, including contact@rism.info, Facebook, and Twitter. You can keep using the RISM online catalog at opac.rism.info and the monthly updates will continue.
Stay healthy, everyone!
Updated 20 April 2020.
Image: Christoph Demantius, Corona harmonica (Leipzig, 1610). Leipziger Stadtbibliothek (D-LEm) II. 4. 28. RISM ID no. 990013375. Availbale online.
Share
Tweet
Email
Category: New at RISM
---