MEC-TEI Joint Conference: Encoding Cultures
Thursday, October 5, 2023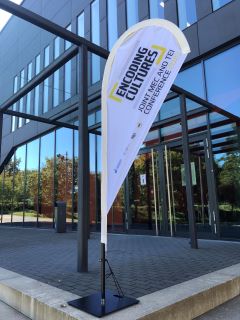 The joint conference of the Music Encoding Conference and the Text Encoding Initiative met from 4-8 September 2023 in Paderborn, Germany. The theme was "Encoding Cultures" and the week was full of workshops, papers, posters, meetings, and discussions. It was a hybrid conference with some presenters and participants joining us online. The Text Encoding Initiative is older, but both text encoding and music encoding share a similar background and goals. Text papers and music papers were sometimes mixed in the same session, and both sides benefited from hearing about current projects.
For RISM, it was good to hear Severin Kolb and Matthias Richter give us the latest about the Franz Liszt Portal that is currently being developed (see our announcement of the project from 2022). "Portal" is the operative word, because the project goes beyond a traditional catalog of works or catalog of sources, not least because Liszt's oeuvre frequently challenges the idea of a "version" or "work." We saw a preview of the flexible interface, which will pull information from a variety of sources, including RISM source descriptions. I was also glad to hear from the Liszt project that the MerMEId tool continues to be developed by its community of users, after its funding through the Danish Centre for Music Editing stopped in 2019. David Day's research on "airs connus" directly uses the MEI-encoded music incipits available through RISM Online. We also heard a welcome update from Elsa de Luca, Maria Alexandru, and Ichiro Fujinaga on the initiative to encode Eastern neumes, particularly for Byzantine notation. This has direct relevance for our working group from RISM Greece, which has cataloged around 70 sources of Byzantine music in RISM (RISM Catalog | RISM Online) but hasn't been able to encode the Byzantine notation yet. It would also open up a large body of repertory for encoding, and also support the Music Encoding Initiative's aim to be open to all music, not only Common Western Notation. My own presentation, together with Andrew Hankinson and Laurent Pugin, focused on the Plaine and Easie Code, which was developed 60 years ago by Barry S. Brook and is currently undergoing a revision by the RISM Editorial Center and RISM Digital Center.
Other highlights were the newly released MEI Friend tool for a user-friendly way of using MEI to create digital music editions, the equally new release of MEI version 5.0, and a digital edition of Beethoven's "Notirungsbuch K", which is a sketchbook that was divided and scattered among various owners during the 19th century. Other research projects illustrate how scholarship and encoding can go hand in hand: Martha E. Thomae's edition of choirbooks preserved at the Archico Historico Arquidiocesano de Guatemala which were digitized and semi-automatically transcribed, aligned into score format, and encoded using MEI; and Richard Freedman and Daniel Russo-Batterham's courses that introduce college students to using music encoding techniques for music analysis.
One of the advantages of meeting together with the music and text communities was the opportunity to hear about projects where the two areas intersect. Salome Obert's study of sources related to Carl Maria von Weber's incomplete opera Die drei Pintos incorporates music manuscripts, libretti, and other text documents. A project at the Museo Belliniano is focusing on correspondence by Vincenzo Bellini and they intend to link up the letters with the music that is mentioned, particularly the Bellini autographs and other manuscripts housed in the museum.
What impressed me the most about the conference was the community aspect and how the users shape the encoding to work for their projects while keeping the format open and adaptable for different kinds of applications. Most of the papers were collaborative, by multiple authors from different institutions, and were often interdisciplinary in nature. Both MEI and TEI are concerned with encoding texts worldwide, and a number of presentations and posters highlighted the need for scholars to be able to represent the music or texts of their own communities in an encoded form, in a way that stays true to their traditions without simplifying to a Western framework. The two keynote speeches, Anna Kijas on the SUCHO project and Till Grallert on Arabic texts, also highlighted how digital projects function as a form of cultural preservation and a means for people to access their own cultural heritage.
The 2024 MEC conference will be held 20-24 May at the University of North Texas (I am on the program committee). The Call for Papers will be out soon, and the MEI website can be checked for updates. The next TEI conference will be in Buenos Aires.
Image courtesy of Jennifer Ward.
Share
Tweet
Email
Category: Events
---