International Women's Day: Women Pianists in RISM
Tuesday, March 8, 2022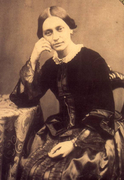 In 2018 we published a post about women pianists in RISM to celebrate International Women's Day. Since then, the number of women pianists in RISM has grown from 250 to over 400. All the more reason to give you an update.
Since RISM is a database that documents specific sources rather than being a general reference guide for all music or people, we only include information on people who have some sort of relationship with a source. This is a lot less often the case for pianists than for singers (for example) because singers are often directly named on the source: we have around 900 sopranos in RISM but in contrast there are only around 400 women pianists.
Historically, as long as women were denied access to orchestras, the piano – and harp, too – became the instrument of choice that enabled participation in any form of musical life. The fact that the piano did not serve as entertainment for only well-bred ladies of privilege is thanks to role models such as Clara Schumann, Leopoldine Blahetka, and Maria Theresia von Paradis, who became pioneers despite facing at times considerable resistance.
Here they are, the 400 female pianists in RISM (as of March 2022):
Key:
c = circa
a = before
p = after
.sc = century
The full list can also be viewed here. This list will continue to grow, and any corrections or additional information concerning biographical details can be sent to: alexander.marxen@rism.info
Image: Clara Schumann, circa 1853, photographer unknown, from Wikimedia Commons
Share
Tweet
Email
Category: Events
---