RILM's Global Digital Music Studies Conference in New York
Friday, May 19, 2023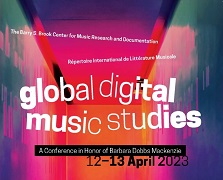 In April 2023, RILM hosted a two-day conference in New York in honor of Barbara Dobbs Mackenzie's career as the organization's long-time director. The Global Digital Music Studies Conference aimed to "inspire new models for generating and disseminating musical knowledge with digital technologies that have the potential to engage and connect music research communities worldwide." The theme of the conference echoed RILM's global network and scope.
The conference opened with remarks by Tina Frühauf, who is now following in the footsteps of Barbara Mackenzie as the director of both RILM and the Barry S. Brook Center for Music Research and Documentation at the City University of New York. Her positioning of digitization as a means for equitable dialogue in our globalized field set the tone for the first day. Timothy Curtis from UNESCO reflected on 20 years of Intangible Cultural Heritage and highlighted the role that music and the performing arts play in preserving this aspect of culture. We heard that 60% of the 600+ listed cultural heritage practices involve music, and they can all be explored online in this visualization.
Two of RILM's sister R projects, RISM and RIPM, came together in the opening panel to bring digital music bibliography tools into dialogue with its own past. Laurent Pugin (RISM Digital Center) started with RISM's first publications as printed books and journeyed through RISM's digitization process to enable today's data curation, linked data, and distant reading of an enormous music dataset. We can ask (and get answers to) questions concerning keys in certain genres over time, popular dedicatees on manuscripts, or the proportion of major modes to minor ones. My own paper (Jennifer Ward, RISM Editorial Center) took up the 1.6 million music incipits surveyed by Laurent from a historical perspective, looking at how it came about that they could be digitally notated in the first place. In fact, Barry S. Brook developed and promoted the encoding system for music incipits, called the Plaine and Easie code, in the early 1960s, which predates his founding of RILM in 1966. I sketched the dissemination of the code leading up to the point when RISM adopted it for its international project in the 1970s. The common intellectual histories of all the R projects were then explored by Benjamin Knysak (RIPM International Center), who traced the discourse surrounding music bibliography in the late 19th and early 20th centuries. During this time, the intrinsic value of music publications was a subject of debate, as was whether "inclusivity" or "subjective selectivity" in published bibliographies best served the interests of researchers. All of the R projects grapple with inherited decisions today but we can see how our bibliographies, in particular digital ones, can have an impact on what is rendered accessible and what remains forgotten in our discipline.
The conference papers continuously demonstrated the impact of digital tools in research. Highlights for me included Nico Schüler's research on Black musicians after the American Civil War, where musical networks involving people such as Sam Lucas and Jacob Sawyer can be put together thanks to digitized collections of newspapers and sheet music; Mu Qian's efforts to make sure Uyghur-language materials are equitably represented in RILM; and the report from Jennifer Bain, Julie Cumming, Ichiro Fujinaga, and Debra Lacoste on how the SIMSSA project and its outgrowths are enabling searching of notated music across repertoires and collections. (And as a side note: if you have recently benefited from detailed contents, including incipits, of 16th-century printed music in RISM, a lot of that is thanks to our collaboration with the MML16 project, which is affiliated with SIMSSA).
Jim Cassaro showed how music librarians can equip students with skills for digital research, such as using the visually appealing tool TimelineJS to present a narrative. Federica Riva gave examples of how standard bibliographic shorthand such as "op. cit." or "ibid" is difficult for some users to unlock in digital contexts such as Google Books, where previews and page limits can exclude the crucial footnote where the full citation is found. Furthermore, our familiar practice of posting conference slides online often results in images being used that omit proper image credits—information that is clear in the context of the presentation, but completely lost once the slides are separated from their original setting. Federica's considerations are certainly worth keeping in mind.
One particular delight was hearing about current research that would never land on the desk of a RISM editor, such as the ABBA Voyage hologram show (Alyssa Michaud), pandemic-inspired musical reactions by the emcee Chosan (Abimbola Kai-Lewis), and the eye-opening dilemma of digitally erasing reader annotations for full-text presentation of documents online (Luka Douridas).
We do not often meet the people behind the databases we use. Many musicologists who are active today, myself included, cannot imagine the research process without RILM. Those of us who were raised on RILM all have Barbara Mackenzie to thank. For three decades, she was the force that shaped RILM into the organization we know and appreciate today. We wish her all the best in her retirement, and continued success to RILM!
Share
Tweet
Email
Category: Events
---