Magdeburg in Georg Philipp Telemann's Footsteps
Monday, March 14, 2016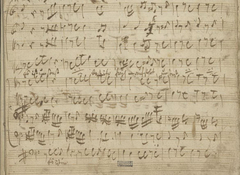 These days, illustrious performers are expected once again in Magdeburg. The 23rd Magdeburg Telemann Festival focuses this year on Telemann and the concert, spotlighting works that Georg Philipp Telemann (1681-1767) himself once presented as a concert promoter.
Beginning last Friday and continuing until March 20, there are numerous events taking place in Telemann's home town. There is something for everybody, from a walking tour in Georg Philipp Telemann's footsteps to a performance of the opera Damon. In all, 500 musicians from 20 countries will make Telemann's music come to life.
And today - Telemann's birthday - is the start of a two-day scholarly conference called "Concertare – Concerto – Concert. Das Konzert bei Telemann und seinen Zeitgenossen" (The concert/concerto of Telemann and his contemporaries) featuring scholars from Germany, Japan, Switzerland, and the United States.
Telemann was not only an extremely productive composer. He was also a music entrepreneur: a man who founded his own publishing company, organized his concerts, and sold tickets and text pamphlets. This array is also reflected in the RISM online catalog. With over 5,000 entries and just about 700 links to digitized music, Telemann is high up on the catalog's leader board.
Since Telemann composed for just about every instrument and genre, and since a large number of musical sources have luckily survived, the RISM online catalog offers a rich variety of his compositions.
Image: Autograph manuscript of Telemann, Es ist umsonst daß ihr früh aufsteht (TVWV 1:1753), Universitätsbibliothek Johann Christian Senckenberg, Frankfurt (D-F), Ms. Ff. Mus. 994 (RISM ID no. 450004277)
Share
Tweet
Email
Category: Events
---