New Women Composers in 2019
Monday, November 4, 2019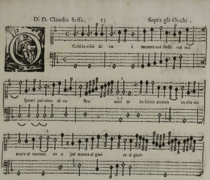 In March 2017, we published a list with 800 women composers who appear in RISM records. In 2019 alone, we have had over 50 new names, so in total there are over 1,000. As a sampling, here are 17 of them.
Some of the new ones are from the records we have imported from ICCU:
Cecilia Arditto (1966*)
Joanna Bruzdowicz (1943*)
Carolyn Jean Hawley (1934*)
Patrizia Montanaro (1956*)
Lucia Ronchetti (1963*)
Maria Gabriella Zen (1957*)
We have some new names from Argentinia:
Adela del Valle (1897*)
Julia Puigdengolas (ca. 1875-ca. 1950)
There are some new printed music editions by the following composers:
Mary Dering (1629-1704)
Francesca Mancuso (16/17 century)
Lucia Quinciani (ca. 1566*)
Claudia Sessa (ca. 1570-ca. 1619)
From the collections of the Universität der Künste in Berlin:
Elfriede Koch (19/20 century)
Clara Angela Macirone (1821-1895)
Theodore Roloff (1849*)
From South Korea:
Shirley Dean Nevin (1894-1982)
and Bessie Lim (1897-1999), whom we reported on back in April.
Image: Beginning of the sacred song "Occhi io vissi di voi" by Claudia Sessa (ca. 1570-ca. 1619), from Canoro pianto di Maria Vergine (RISM 1613|3). Museo internazionale e biblioteca della musica di Bologna (I-Bc) V.125.
Share
Tweet
Email
Catégorie: Nouveau au RISM
---